The unsightly side of air conditioning or heat pump dissuades some people from equipping themselves
DECOCLIM® is the solution!
DECOCLIM®, the ideal compromise
Ready to fit and easy to install, DECOCLIM® is the ideal compromise between aesthetics and respect for the air flow necessary for the proper functioning of the device. DECOCLIM® protects your installation. Designed in exotic wood for its durability outdoors, DECOCLIM® blends in as well as possible with each environment.
10 years of experience
With more than 10 years of experience in woodworking, our know-how in this field has enabled us to develop an efficient and qualitative product. Anxious to make you benefit from the best quality, DECOCLIM® has been studied and developed in close collaboration with air conditioning professionals, it thus provides a real answer to the problems of concealment and air conditioning and heat pump.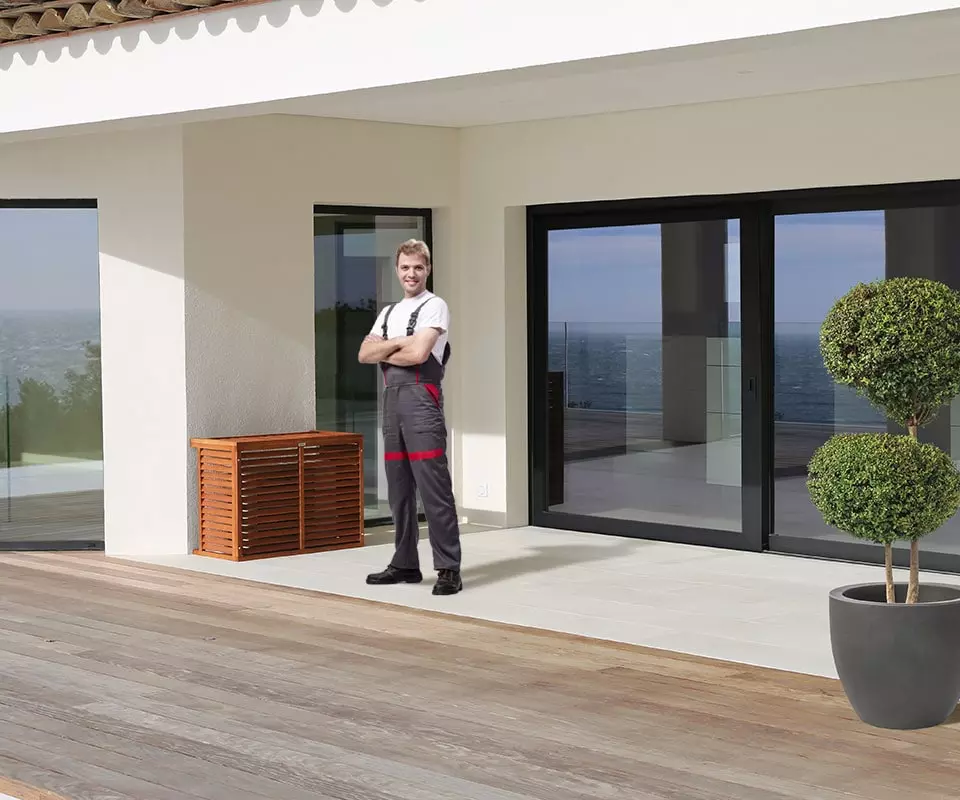 Why choose DECOCLIM® for you professional?
to hide/beautify outdoor air conditioning units and heat pumps
reduce noise pollution
its design respects the air flow necessary for the proper functioning of the unit
installation projects finally granted by condominiums or municipalities
protects the installation from bad weather, vandalism or possible domestic incidents
the customer is more willing to accept the installation of the outdoor unit in a place that is sometimes more convenient for the installer
brings added value when selling an air conditioner or heat pump.
The DECOCLIM® advantages
is world in 5 minutes and adapts to any support
exists in 3 sizes to cover all brands on the market
modular, DECOCLIM® is therefore suitable for any type of installation: on the ground, against a wall/façade. It is also stackable
it can also be installed on existing installations
its exotic wood design makes it a resistant product outdoors and maintenance free
can also be painted or stained
very simply withdraws during the maintenance of the group.
Where to find DECOCLIM®?
on this online sales site www.decoclim.fr
on request you can obtain the professional prices
we ensure deliveries within 24h/48h to the address of your choice (France & Corsica)
DECOCLIM® offers you telephone support for any questions
DECOCLIM® is also available from your distributor