Yoann Chetrit, Climat 26, installer in Marseille: "Decoclim® allows the compressor to be preserved as a sort of shield"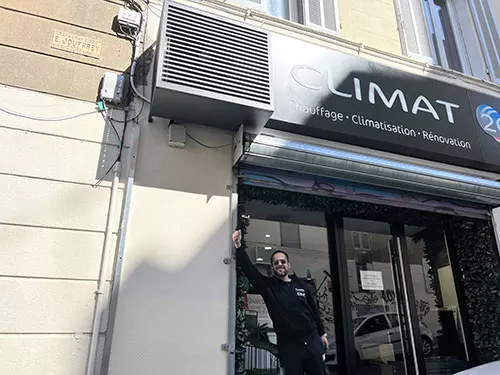 For 10 years now, Climat 26 , an all-trades company specializing in heating and air conditioning, has been offering Decoclim® products to its customers. The company, created in 2012 and which today employs about ten people, communicates a lot about our air conditioner cover solution. For Yoann Chetrit, its manager, the advantages of Decoclim® are as interesting for the installer as for the end customer.
How do you offer Decoclim® to your customers?
We are present at a certain number of fairs such as the one in Marseille and it is a product that we easily promote in our showroom with our model house. It is anyway a flagship product that we like to promote. Among our customers, there are those who are already equipped. We then offer them the option of installing this type of casing on their outdoor unit and we take the opportunity to offer them maintenance. Often, we offer maintenance and sell an air conditioner cover at the same time. Afterwards, there is also the customer who is not yet equipped and who does not want to have a "wart" on his facade. We then explain to him that we have a response to all this: the Decoclim® product.
What are the advantages of the Decoclim® product for the installer?
First of all, this has an interest in our communication. On the website, for example, it's clearly a way to stand out from the competition. This allows us to highlight the innovation aspect. Now I know that not all competitors offer it. This has been the case with us since the company was founded. At the time of installation, Decoclim® also has an interest. This can allow the outdoor unit to be positioned in the best place from a technical point of view without this being a problem from an aesthetic point of view. Installation is then easier and faster. It's also easier when working in condominiums because you don't have to go beyond the railings. It is therefore a product increasingly appreciated by condominiums. Also, Decoclim® makes it possible to offer a better finished service. Finally, it's quite easy to install. Having adjustment tabs that allow us to be able to go behind the network or behind a wall offset is very well thought out. As I have worked with several brands of air conditioner covers, I think that Decoclim® is a good product with good after-sales service and good commercial service.
What are Decoclim®'s arguments for the end customer?
Aesthetics is obviously one of the main arguments. In contemporary constructions, many people choose the 7016, the anthracite aluminum model. If we are in a Provençal style, generally, it is rather white that goes best because it allows a reminder with white PVC or aluminum joinery. These are finishes that allow the product to be well integrated into the environment. But this is not the only argument, there is also noise, since Decoclim® allows the reduction of noise pollution. I explain to my clients that this will make things better. Decoclim® also protects the compressor from external attacks and bad weather. This is an argument for the customer who will undoubtedly need fewer maintenance interventions. I have a recent example with a client who lives near the sea. We installed an air conditioner for him and the waves hit the plates of the outdoor unit, which created corrosion. I then offered to put on a dressing to avoid having another problem. Decoclim® preserves the compressor as a sort of shield.