Damien Fernandez, Ecologia company, installer in Brindas (69): "Decoclim® is a real solution for finishing the installation neatly"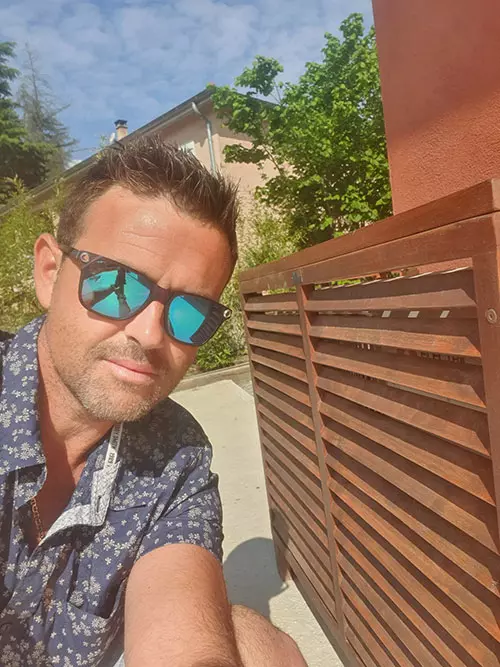 The Ecologia company is a historic customer of Decoclim®. Specialized in the installation of heat pumps and air conditioning, its manager, Damien Fernandez, has trusted us for 7 years now. To satisfy a more demanding clientele, it offers with Decoclim® the guarantee of a discreet and aesthetic installation.
How do you offer the Decoclim® product to your customers?
I suggest Decoclim® from my first meeting with clients. I talk to them about it because having an engine is something that scares people, that bothers them. On my quotes, there is always a Decoclim® as an option. On average, we have about half of our customers who want this solution as soon as their air conditioning is installed. I also offer Decoclim® when I go to customers for maintenance or repair. Some have had their device for several months and have really realized its unattractive appearance, so they prefer to hide it.
For you, as an installer, what are the advantages of the Decoclim® product?
For me, Decoclim® is clearly a way to stand out. I try to have a targeted clientele with people who want to have a really finished product. It is therefore essential to have this kind of solution to complete the installation in a neat way. Otherwise, we can't make a design installation because we always have this external engine which looks like a wart, whatever the brand. With Decoclim®, we can even offer variants, we can paint Decoclim® wood in the colors of the facade. It is a product with a good quality-price ratio. During installation, Decoclim® also helps us to optimize the positioning of the outdoor unit. People accept more easily to put it in such and such a place. This makes it possible to shorten the links. It is a financial gain and it offers a better performance of the device. We know that the perfect installation is a connection that is 3 to 7 meters long. In condominiums, Decoclim® is also an interesting argument. I install a lot of them in apartments. This is very practical because in condominiums, the motors should not be visible. And once installed on the terrace, the customer can use his air conditioning cover as a sideboard. Sometimes I even integrate a power socket so that the customer can plug in his barbecue!
What are Decoclim®'s arguments for the end customer?
The aesthetic interest is obviously very important. Very often, our customers prefer white. Many also choose wood. They are usually looking for something low key. Anthracite gray is rather chosen for new houses that have joinery of the same color. Our customers really appreciate the Decoclim® design. Sometimes, some people order a Decoclim® for their outdoor unit and another smaller Decoclim® to match the aesthetics of the house. We therefore sometimes order Decoclim® which do not hide an outdoor unit. With regard to bad weather, the Decoclim® is also very interesting. In particular, it can protect the outdoor unit from hail. I had customers who had bought a Decoclim® and who were affected by hail. They didn't regret it. The engine was perfectly protected by Decoclim®. For our customers who have children, the Decoclim® air conditioning cover also helps prevent domestic accidents. Protection provides some security. The louvers protect the propeller which is at the front. And as the motor battery at the rear is very sharp, the Decoclim® limits access for the little ones.
ECOLOGIA
134 Pont Chabrol Road
69126 BRINDAS
website: www.ecologia69.fr
Telephone: 06 71 33 61 90