DESIGN AIR CONDITIONING COVER: DECOCLIM DECORATIVE FORMWORK
Façade, garden, terrace, swimming pool... Don't let an ugly air conditioning motor or heat pump ruin the beauty of your outdoor spaces. Decoclim is installed in less than 5 minutes and allows you to instantly find the harmony of your decoration.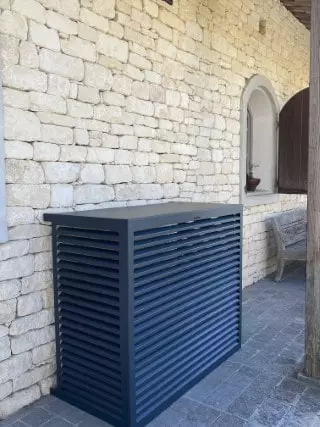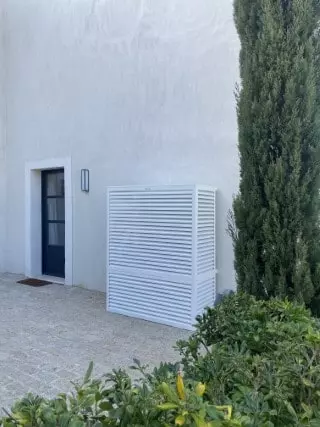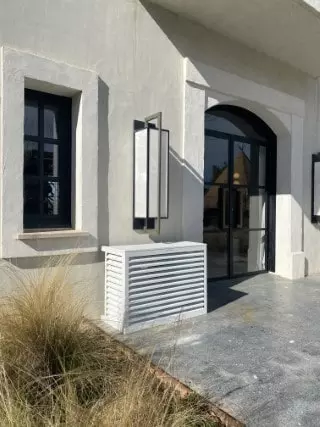 Soundproof box for heat pump, in aluminum or wood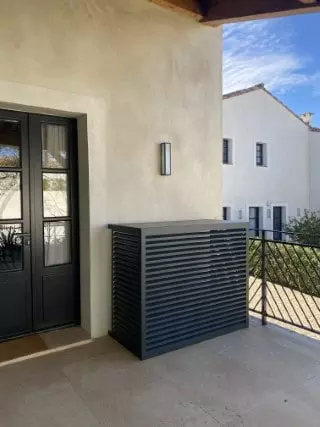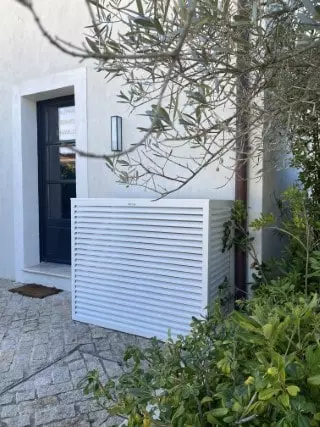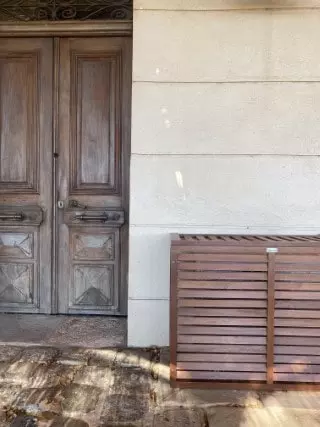 Aesthetic casing for heat pump or outdoor air conditioner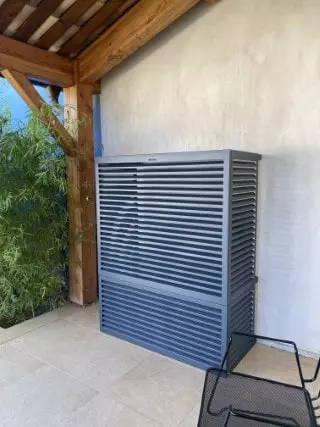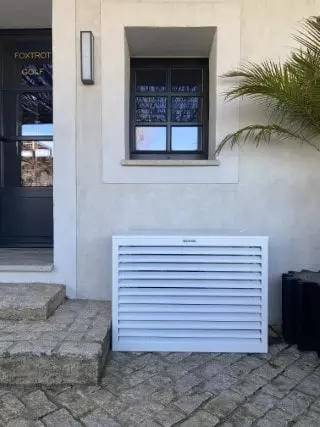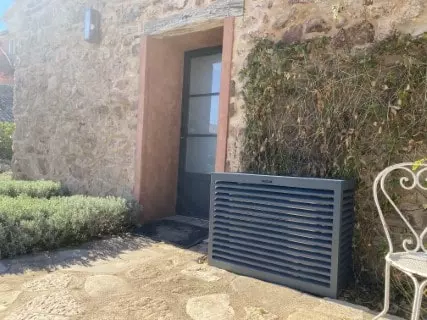 Design aluminum box for heat pump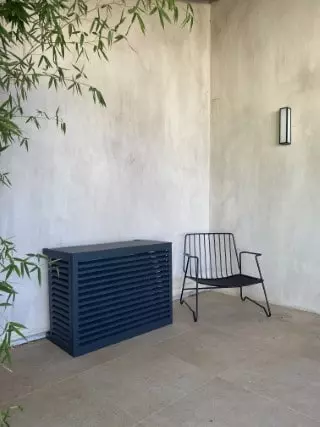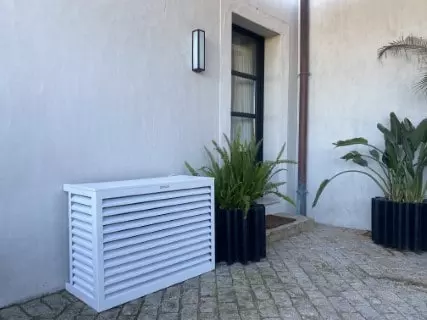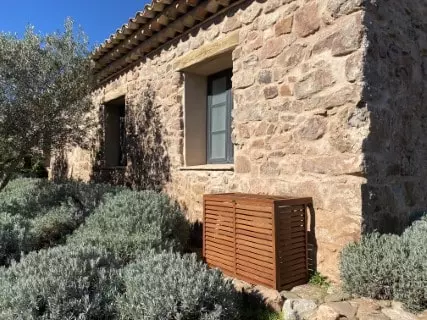 Decoclim Design CAP Shelter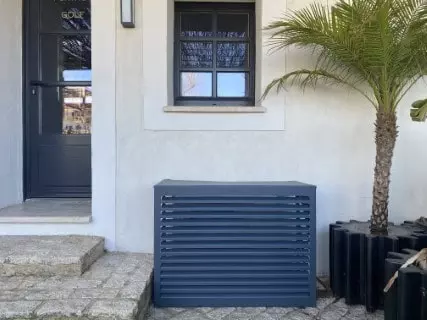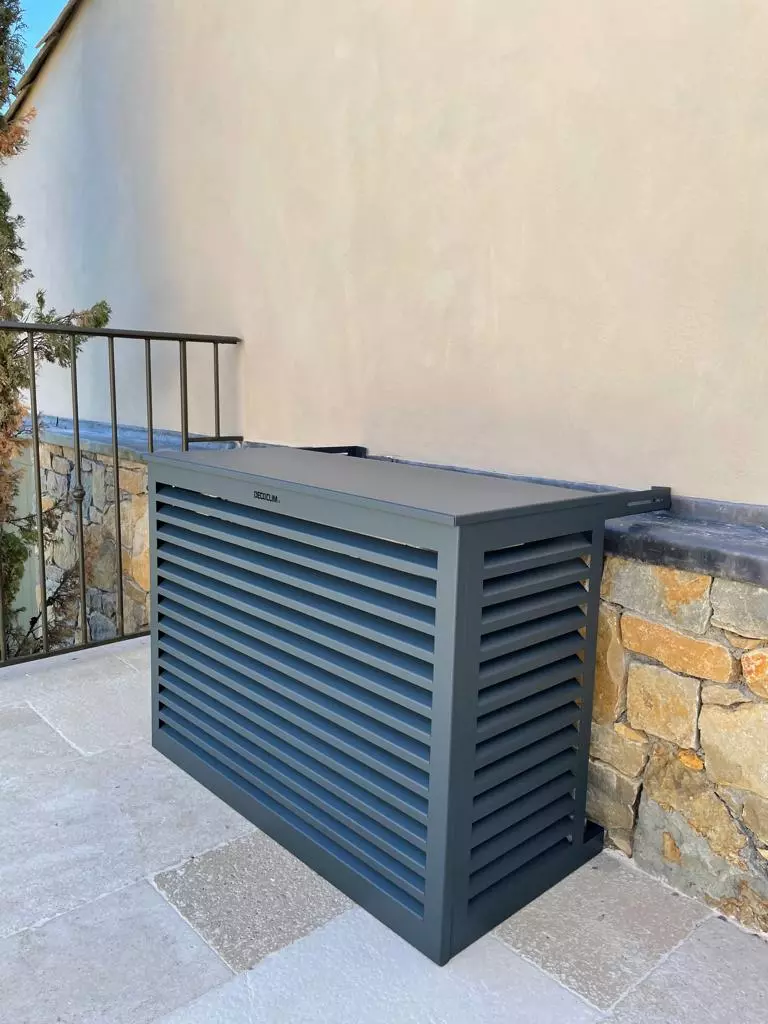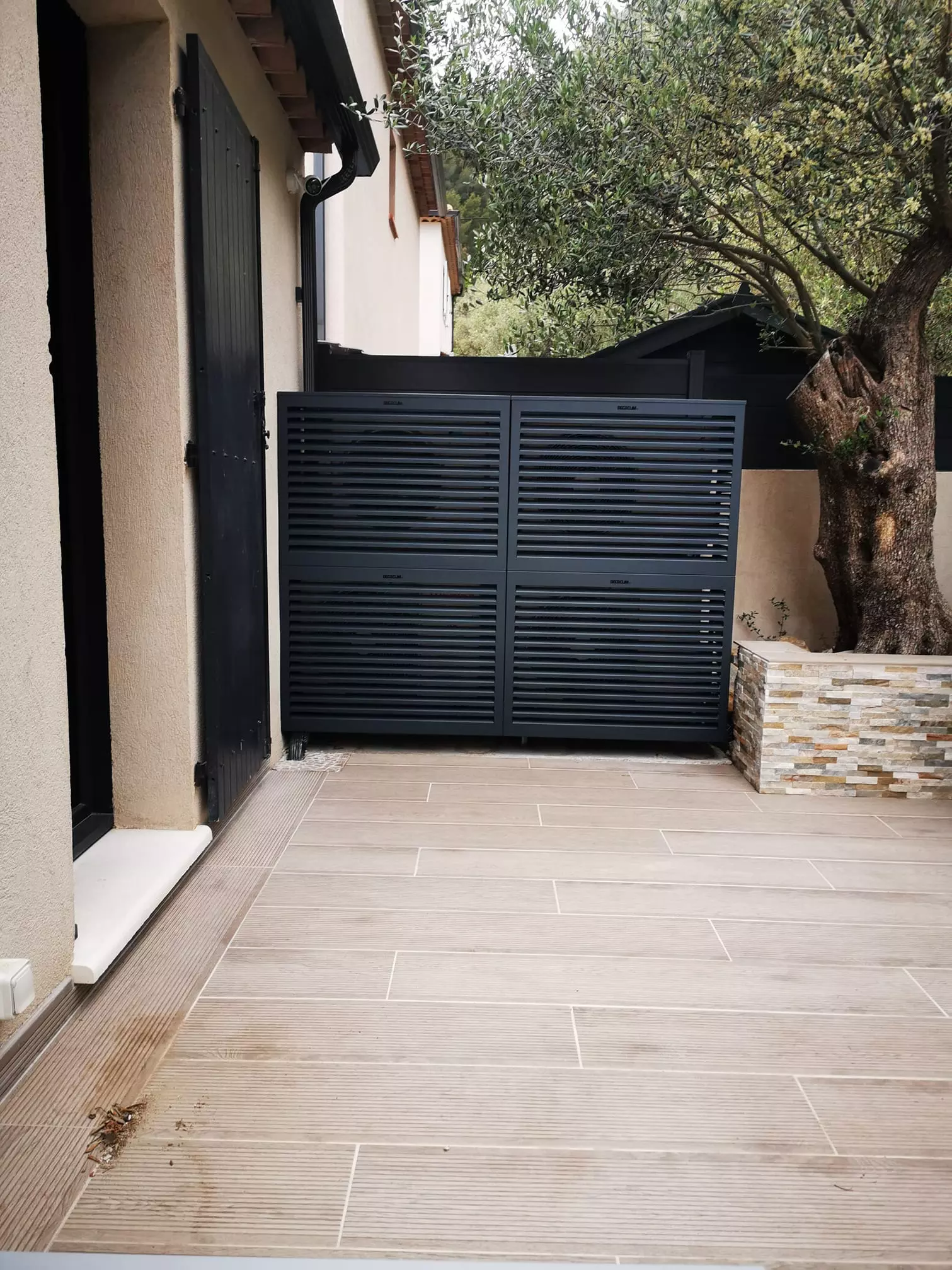 Nice gray aluminum air conditioning cover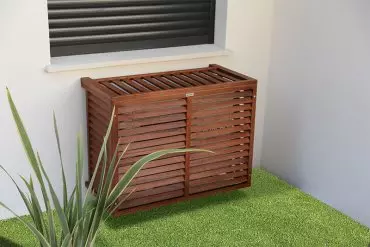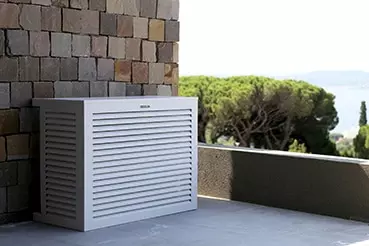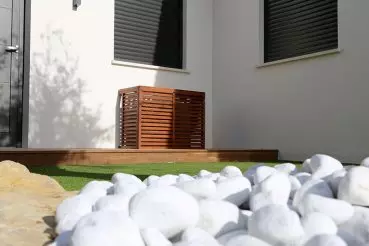 Designer air conditioning cover in exotic wood DECOCLIM
[/vc_column]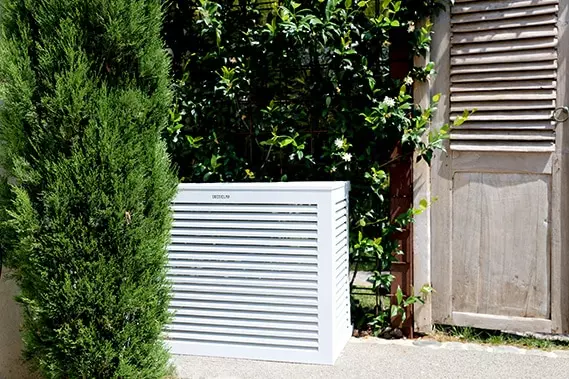 Design aluminum air conditioner cover, aluminum or white color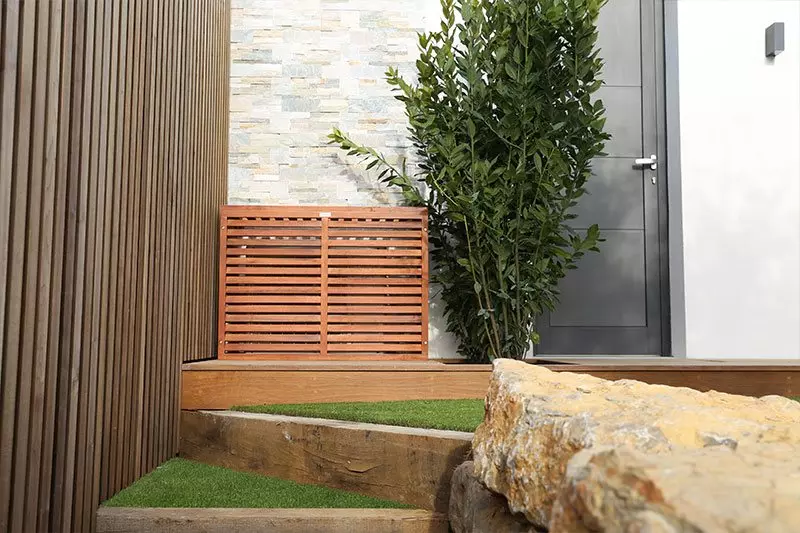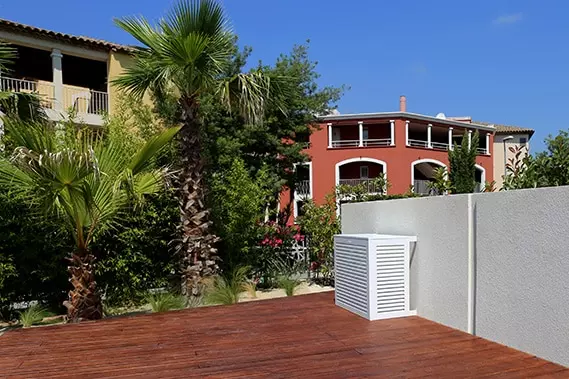 Exterior design air conditioning cover for all configurations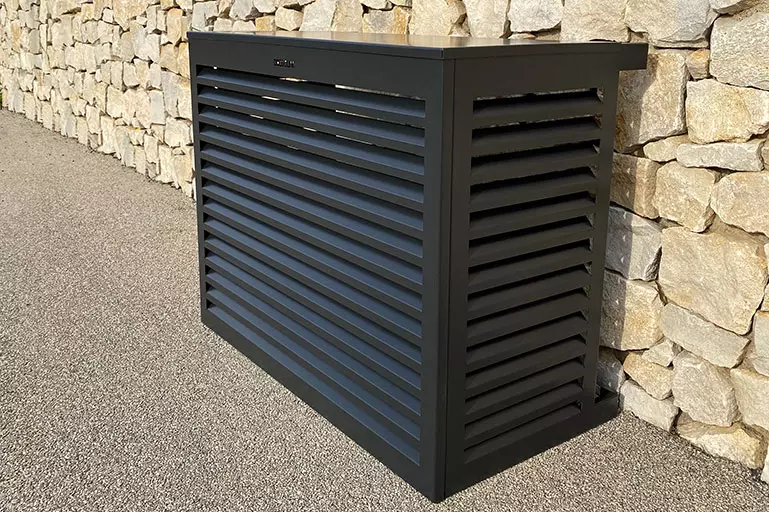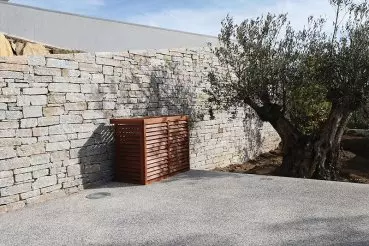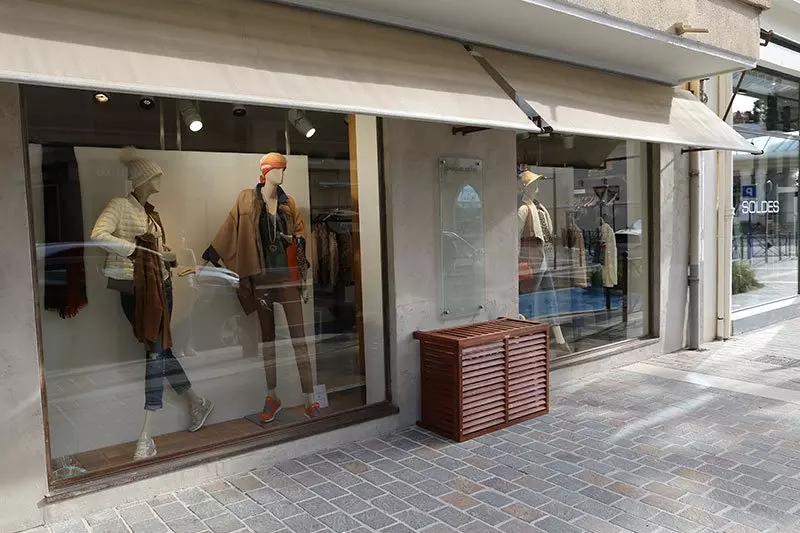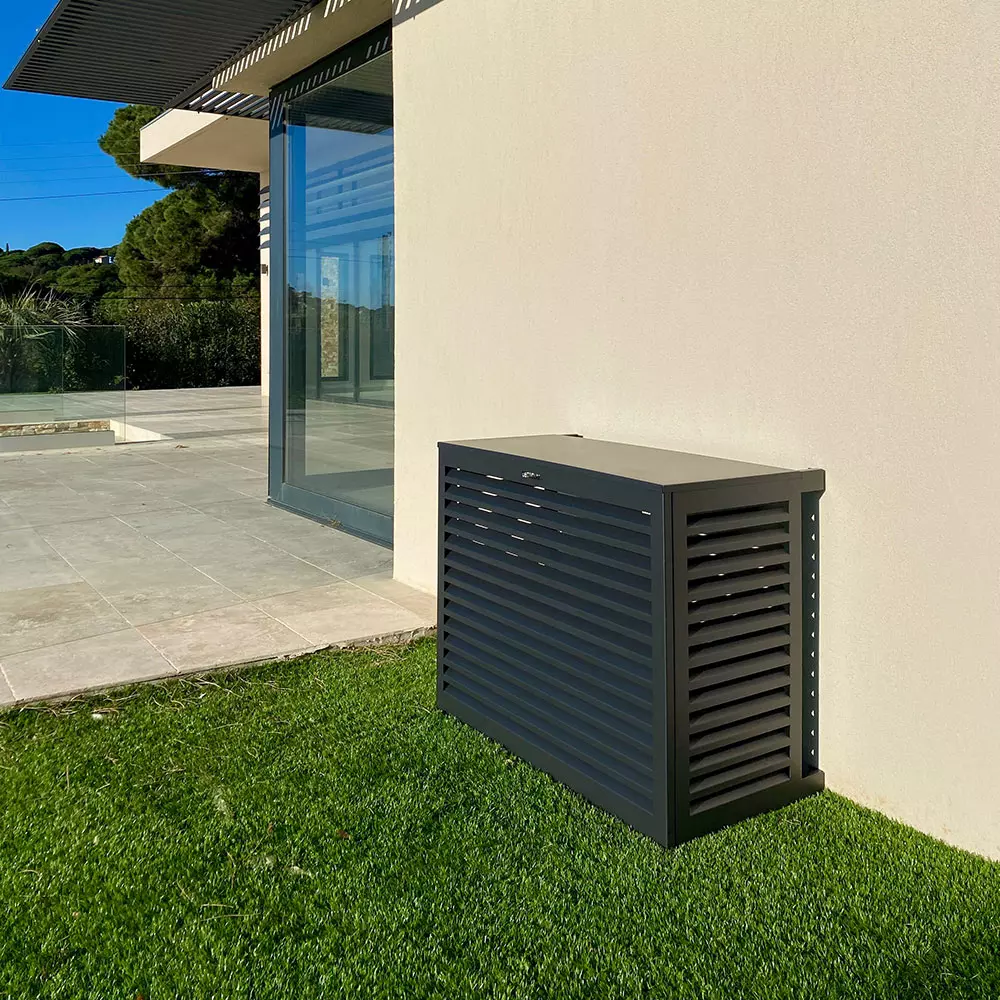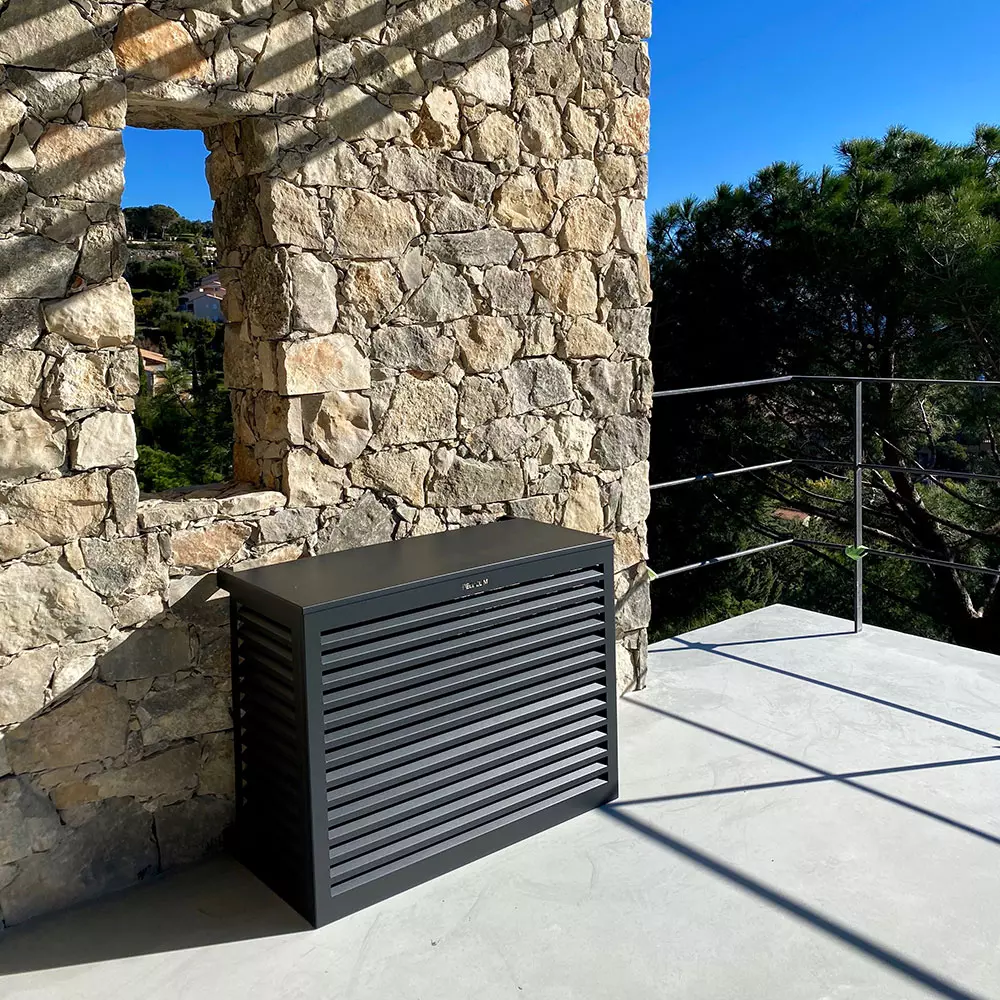 Decoclim design heat pump cover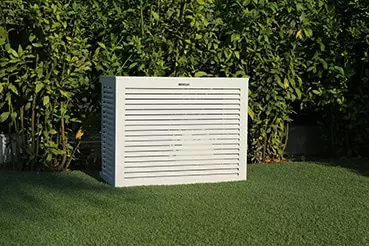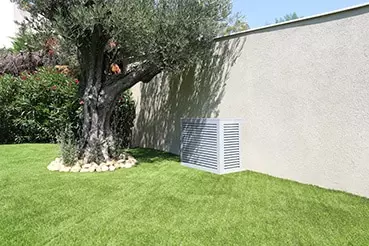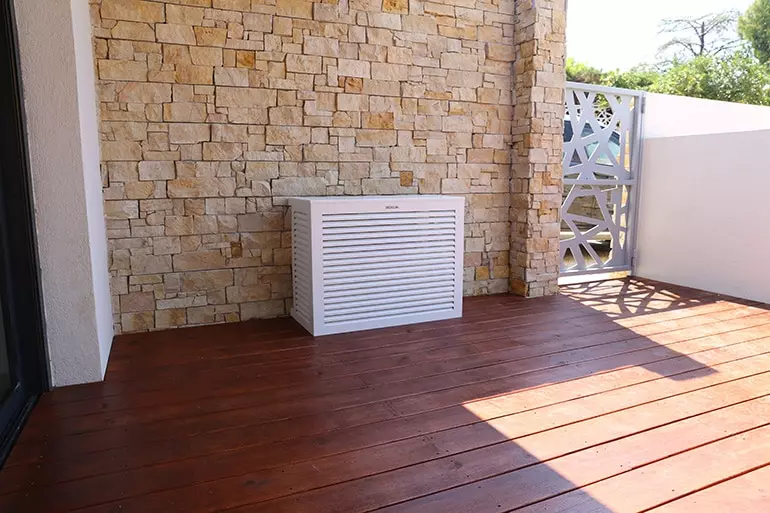 Decorative air conditioning cover Decoclim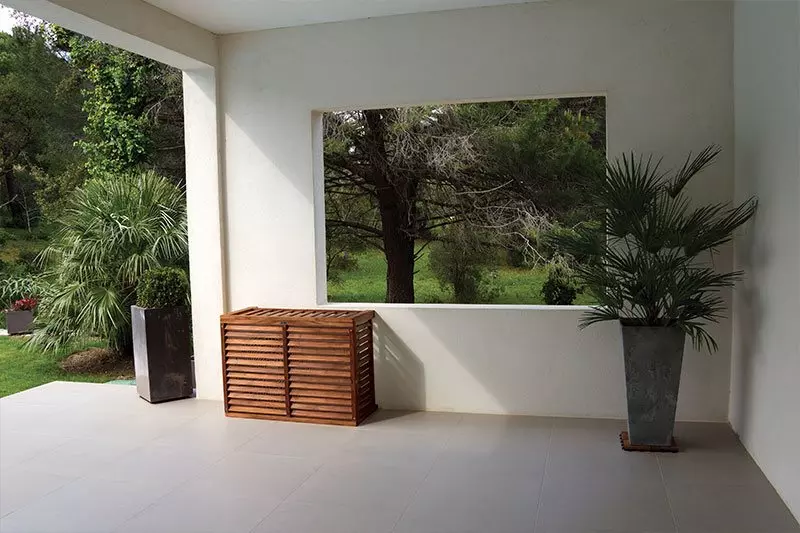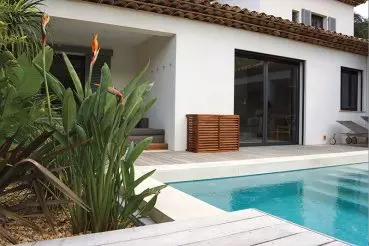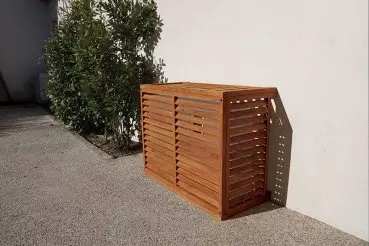 Decoclim decorative air conditioning cover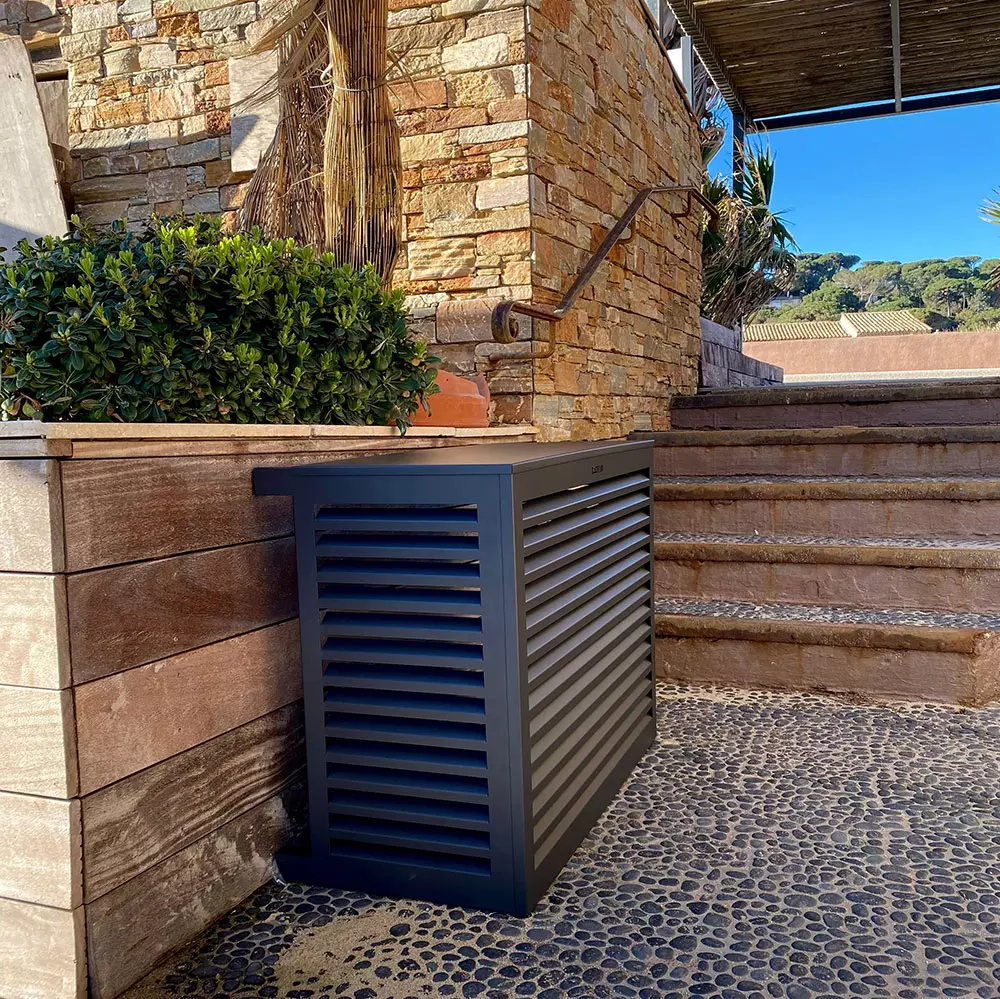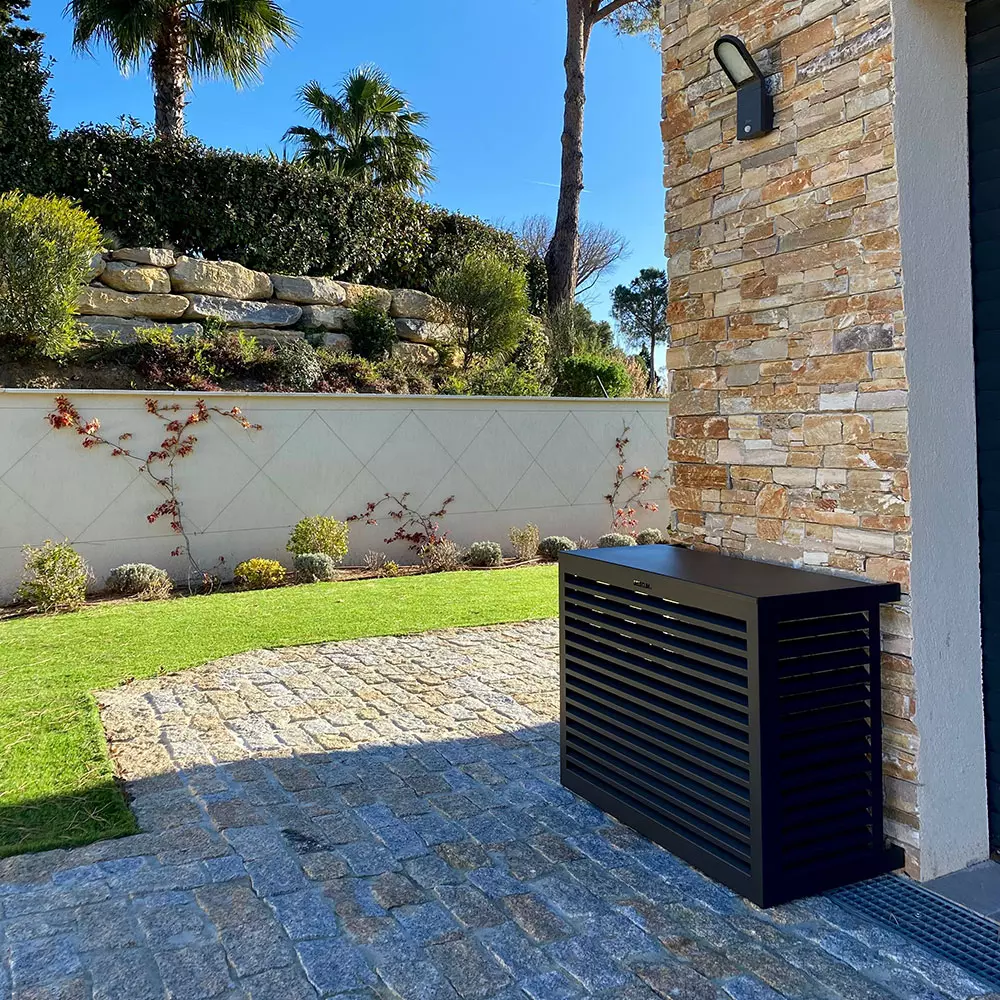 Nice Decoclim aesthetic air conditioner cover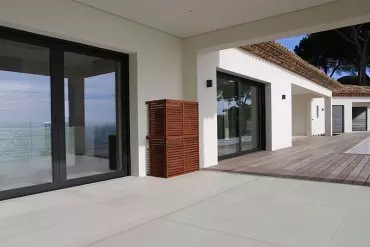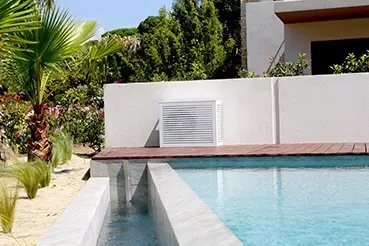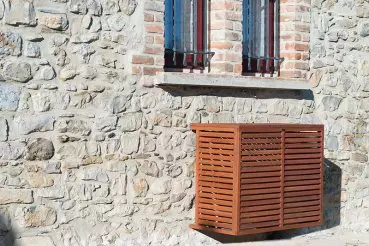 Decoclim design swimming pool pump shelter
[/vc_column]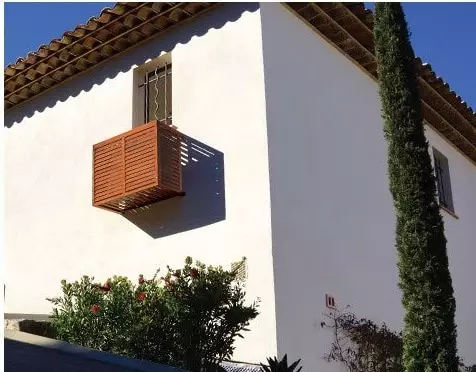 Air conditioning cover hung on the wall in front
Are you looking for a design air conditioning cover to hide your air conditioning or your unsightly heat pump and embellish the view of your facade, your garden, or your balcony?
Decoclim is a high-quality decorative formwork that will allow you to enjoy your air conditioning without it spoiling the beauty of your outdoor spaces , regardless of where the device is placed.
A decorative casing to hide the air conditioner placed on the terrace or balcony
If your outdoor air conditioner is placed against a wall , then we recommend the 4-sided Decoclim cabinet. Thanks to its neat aesthetics, your guests will take it for a decorative storage unit without suspecting that it houses and camouflages an air conditioning unit.
A designer air conditioning cover to hang to hide the wall-mounted air conditioner under a pretty casing
If your outdoor air conditioner is hung under the front window, or hung high up on the wall , Decoclim recommends a 5-sided air conditioning cover that hides the sides and top of the unit… but also the bottom! That way, if you look up to the skies, you won't see anything of the ugly device, not even its underside.
The design formwork also covers the back of the outdoor air conditioner or the swimming pool pump
If your air conditioning or your heat pump is not positioned against a wall and you also need to hide the back of the device , as is often the case for a swimming pool pump, then Decoclim advises you its "Rear side" accessory. In this way, your device will be protected from all sides in its designer casing .
A beautiful outdoor air conditioner cover in wood or aluminum
Decoclim formwork for air conditioning is available in different noble materials:
Exotic rot-proof eucalyptus wood, for a natural decoration
100% Aluminum, for a resolutely modern style
In terms of colors, Decoclim also offers different shades:
air conditioning cover in anthracite gray aluminum for a contemporary look
white air conditioning cover for a sleek style
and you can paint or stain our exotic wood air conditioning cover in the pantone color of your choice if you wish.
It is already very pretty as it is but it is an interesting possibility for a tailor-made result , if you want the air conditioning cover to blend in completely with your decor by adopting a tone on tone with the color of your facade, for example.
A decorative air conditioning cover to your measure to find visual harmony
Our design air conditioner cover is available in several sizes , from the smallest to the largest, so that you are sure to find the product that best suits your needs. To find out which one you need, simply enter the dimensions (height, width, depth in mm) of your air conditioning unit in our online tool located under the menu, and you will get the recommended Decoclim size.
A high-end air conditioning enclosure that stays beautiful for a long time
Our decorative covers are designed for outdoor use for many years. They are made with high quality materials, are anti-rust, anti-UV, their screws are made of stainless steel and you can be reassured: their neat design will not deteriorate over time.
This is why our aluminum air conditioning cover is guaranteed for 10 years. A guarantee of quality that proves our commitment to the quality of our products.
And if on delivery you are not fully satisfied with the product, we undertake to take it back. You have 14 days to change your mind.