Steven Godard, GO CLIM, company specializing in the installation of air conditioning, boilers and heat pumps in Maisons-Laffitte (78): "Decoclim® allows me to close the site with a 100% satisfied customer who therefore recommends me!"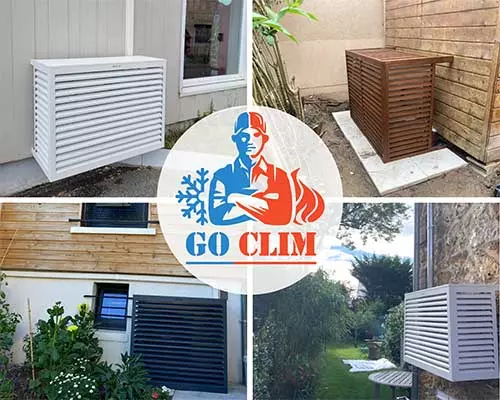 Trained and passionate about the very varied sector of climate engineering, Steven Godard created his company GO GLIM in Maisons-Laffitte. Steven and his team are committed to providing innovative solutions that adapt to the demands of their customers as well as to the climate challenges of our century.
How did you hear about Decoclim®?
I first got to know Decoclim® at the SIFA show in November 2021! I met the team and spoke with them about the product and its advantages. After that, I contacted my 3C Clim distributor in Cormeilles to place an order, who notably has an exhibition Decoclim® in his showroom.
Why and how do you offer Decoclim® to your customers?
I don't wait for the client to ask me because he doesn't necessarily know this solution. I systematically offer it by including it in the estimate with the product sheet and photos of previous installations. The customer can then take the time to make his choice, particularly on the color. Once the Decoclim® is installed, the customer is delighted.
What are the advantages of the Decoclim® product for the installer?
The first advantage of Decoclim® is that it reassures the customer! It allows the unit to be placed in a place where the customer did not necessarily want to install it, but which is easier for the installer.
Decoclim® also allows me to stand out from the competition by offering a complement to the installation. With the photos of previous construction sites, I don't need to argue for very long, the client is quickly convinced.
Finally, the other advantage of Decoclim® is that it adapts to all types of housing thanks to its different colours, materials and sizes, which is very practical for installation.
What are Decoclim®'s arguments for the end customer?
When the client contacts me for an installation, I imagine that I am doing it for myself, I put myself in their shoes and therefore naturally I offer them an installation that is well finished with a Decoclim®. You have to understand that the air conditioning or the heat pump is often a product that is added to the house, so I always try to be as discreet as possible, with perfect finishes. Decoclim® allows me to close the site with a 100% satisfied customer who therefore recommends me!